If you're a Swiftie like me, you've probably listened to Taylor Swift's new album, "Fearless (Taylor's Version)" more times than you'd like to admit. Even though it was a re-recording, and not a completely new album, Taylor engages her following and keeps them coming back for more. On the first day alone, Swift has (once again) broken new records when it comes to her albums charting everywhere from Apple Music to Spotify. Results that, as a marketer, I can only encourage.
But how does she do it exactly? Below are five key lessons we can all learn from the releases of Taylor's most recent albums; Folklore, Evermore and Fearless' (Taylor's Version). Which honestly, all came as a surprise… Enjoy reading!
First, a little back story. I've been a fan of Taylor Swift since I was 12, almost 13 years old. She has always been an example and inspiration for me. How she has transformed into this icon literally amazes me. No matter your favorite album, lyric or genre, Taylor Swift has stood the test of time because she always delivers the unexpected. During an interview in 2018, Swift confessed that the feud with Kim Kardashian, when the reality star called her a snake, was the "lowest point" of her life. Fast forward a couple of years, and she is now even more successful than ever. And that's exactly why I'm writing this blog post.
Lesson 1 : How to bounce back after a downfall
Kanye West's 2009 MTV VMAs moment that ignited the feud, was a true test of Taylor Swift's character. Instead of giving into the wave of negativity, Taylor used it as a fuel for her creativity. The snake was front and center of her Reputation album and became a powerful symbol of the singer's fabulous comeback. "I learned that disarming someone's petty bullying can be as simple as learning to laugh," she commented later.
Whether you are marketing a brand or an individual, being on the receiving end of negative feedback is never easy. While I certainly do not advocate that brands that face fair online criticism laugh it off, you have to pick your battles. If your brand makes a mistake, acknowledge it and roll with it rather than try to ignore it or make it look like it never happened.
Taylor never ignored her reputation and she turned the words they used against her, into inspiration. She made the best of it and it only benefited her. She fights back every time. Each album with a different approach, message and purpose. Innovation is her middle name. And as she sings in "Evermore': "I come back stronger than a 90's trend."
Lesson 2 : It's all in the details
When launching a music product or even any products, you need to go all out. Between teasing and finally releasing the actual product, there's a high possibility of your customers losing their excitement. But Taylor has that covered. When she announced Folklore, it was about much more than just "an album". She created an aesthetic. A lifestyle.
In the 24 hours after the release, fans were able to watch the official music video for "Cardigan", discover the making of the "Cardigan" music video, watch 15 official lyric videos, visit a reskinned website, with physical single/album & merchandise ready for pre-order and last but not least, you were able to buy 8!!, I repeat, 8 limited-edition deluxe CDs and vinyls featuring different alternate cover artworks. As I said, the release of Folklore was about much more than just the surprise album. It gave the media enough content to talk about Swift in weeks to come and her fans got surprise after surprise.
Swift knew exactly what her listeners needed — and she delivered — down to the most minute detail. Common marketing tactics such as Instagram Live and product launches help build suspense.
Lesson 3 : Embrace your reputation
For many years, every little detail of Taylor Swift's life was heavily dissected and criticized. The new Taylor dialed down on public appearances and would only resurface to personally address the issues that were affecting her. She turned the headlines and public speculation around by owning her reputation. As a brand, a perfect shiny image can prevent your customers from connecting with you, making it hard to relate. By remaining transparent throughout all her missteps and mistakes, Taylor's built the intimate, trusting relationship with her customers that every marketer strives for.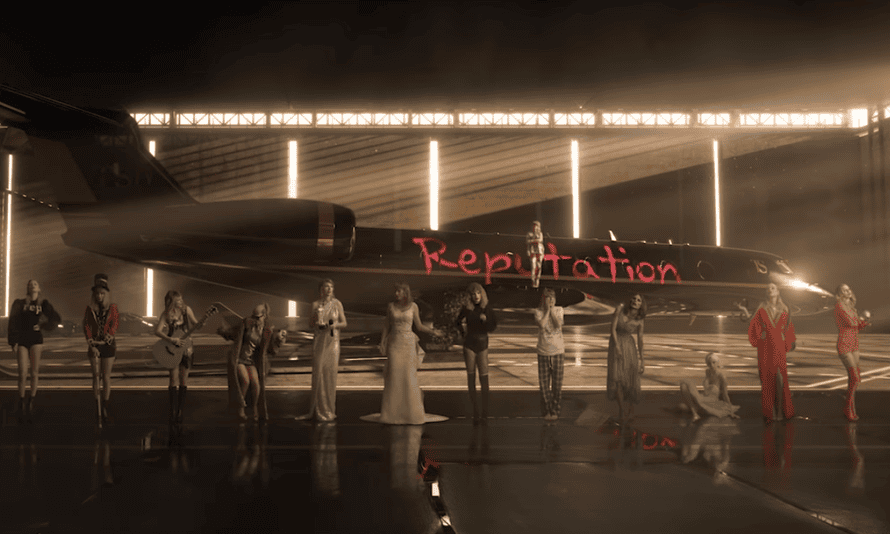 Corporate radical transparency demonstrates that people can relate more to your brand when you pull the curtain and show what it takes to solve your customers' problems. Stuff happens. Instead of avoiding the elephant in the room and jeopardizing your customer's trust, address issues head-on with a genuine apology. They'll find your authenticity refreshing.
Lesson 4 : Meet customers where they are
Taylor Swift knows that the best marketers adapt to their audience, not the other way around. She even invented the term #taylurking; a more charming way of letting her fans know that she's keeping tabs on their social media activity. Rather than blasting the same message across all platforms, Taylor listens and learns how user interactions shift from one context to another.
Swift is no stranger to the concept of creating a buzz, as her last 3 albums have been announced through storytelling on platforms such as Twitter and Instagram. How you can you implement this lesson? Identify where your buyer personas spend most of their time. Study how your ideal customers interact online and create your message accordingly.
Lesson 5 : Provide tailored moments
Let's take a look at Folklore again! Apart from limited edition of physical single and album copies, Swift also released 4 compilations of Folklore tracks on streaming platforms, explaining "the songs on Folklore fit together in different groups or 'chapters' based on how they fit together thematically".
She created: The Escapism Chapter, Sleepless Nights Chapter, Saltbox House Chapter and the Yeah I Showed Up at Your Party Chapter. This allows her fans to delve into her mindset of how each song is telling a story, not necessarily on its own, while also dipping into the lives of a series of characters. This is a fresh take on creating mix tapes or digital playlists based on your mood or vibe. What Swift did was to 'assist' her fans to escape and imagine through these tailored moments. And what it does for her is increasing her streams in a creative way.
Never stop with just one product and in this case, an album. Repurpose the content for different occasions of consumption or moments of your customers. In Taylor's case, she has created four distinct moments for her listeners – to escape, to lull over an insomnia episode, reminisce one's melancholy or simply to party. That's all it takes, right?
Taylor Swift has already made a name for herself in the music industry and if they handed out Grammy's for marketing skills, we're pretty sure she would sweep that category too. She has mastered strategic partnerships, consistent branding and customer engagement. Nonetheless, these marketing strategies would fall flat without Taylor's commitment to continuously improving her music.
Lots of love,
Sofie ♡