Have you ever dreamed of achieving one of Rachel's, Phoebe's or Monica's iconic '90s beauty looks? Now's the chance because last month, Revolution Beauty launched a Friends themed makeup line and I'm so obsessed with it! Can this be any more exciting?
The collection dropped on the 14th of September but there are still some products left. I bought my favourite items via Asos. The best part about this collection? All the products are super affordable. In this blog post I'll show you what I got, what the products look like and what I think about them. Enjoy reading!
About the makeup line
I'm a huge Friends fan, so when I saw that Revolution was coming out with a Friends makeup line, I immediately placed my order. The line consists of one large eyeshadow palette, three small eyeshadow palettes and lipsticks for Monica, Phoebe and Rachel. Six lipglosses, one for each main character, a mirror, three scrunchies and two makeup bags.
"We looked at each character in detail—what they wear, their mannerisms, the makeup they use, the personalities—and started to build from there," Revolution Beauty founder Adam Minto about the collection. "The products take on the life of each character in a really immersive way."
For example, the Monica palette packaging features a picture of the appartment door and includes dreamy brown and reddish-berry shades with names like Chef, Thanksgiving and Geller Cup. Oh my goood!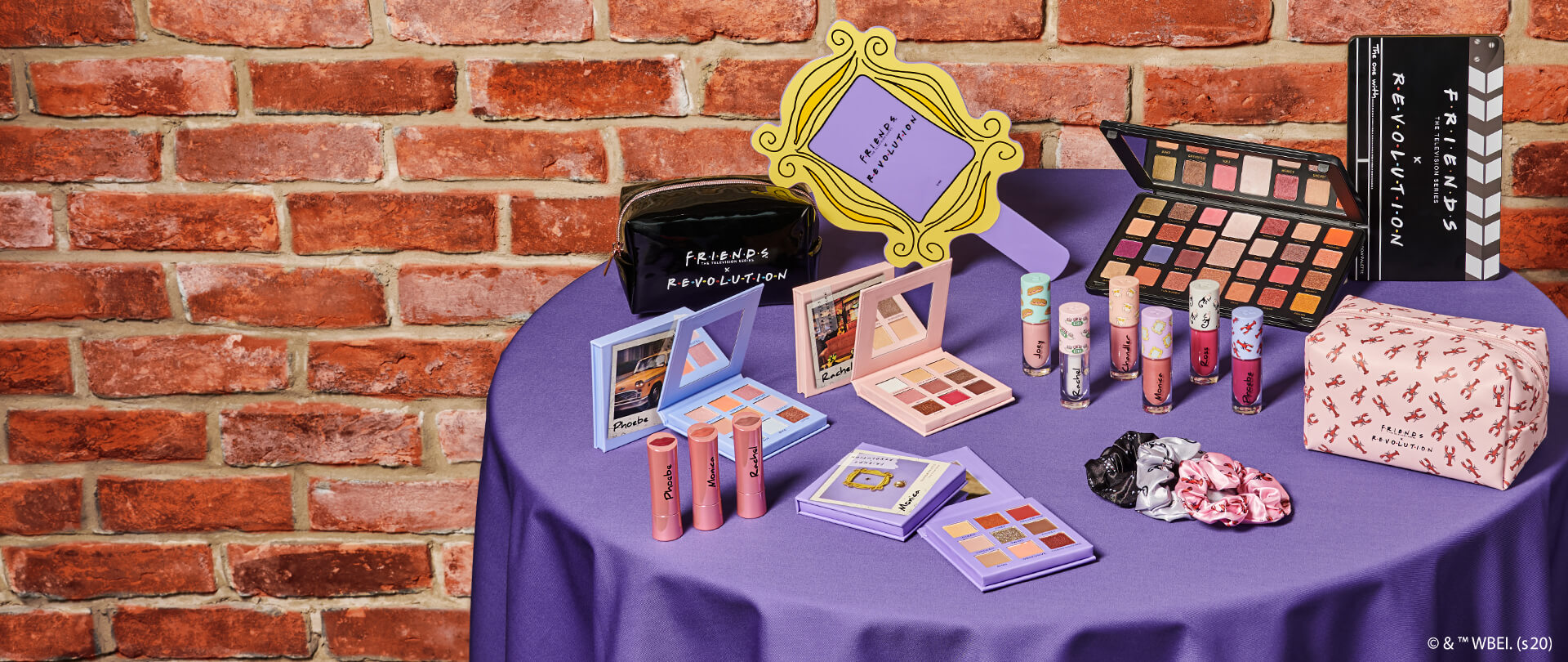 My review
1. Monica's Palette
Monica is my favorite character so it was obvious for me to buy her palette. It has purple packaging and classic warm toned colours, a lot of browns and golds. This is actually the most wearable palette in my opinion, given that we are in the autumn season. That's also why I chose this one. I love the colour scheme and the palette encapsulates the 90s aesthetic, which was very brown in general. Monica's palette is a perfect fall/autumn palette and I'm definitely gonna use it a lot!! I might buy a second one, so I can keep it as a sort of collector's item. 😉
Monica's Eyeshadow palette features nine powder eyeshadows. Three of the shades are amazing! Clean, Chef and Thanksgiving, but the rest are very mediocre and average at best. If I'm honest, I expected a way better quality… However, that does not detract from the fact that I think the shades are beautiful and well chosen. Some shades are just very sheer.
2. Monica's Gloss
The ultimate collectable Friends x Revolution lipgloss has landed! Monica's gloss is a neutral mauve with silver shimmer. It provides an intense colour pay-off, with a wet look finish- the perfect gloss to take you from day to night. I'm actually more a matte lipstick kind of person, but this lipgloss really surprised me. And I mean that in a positive way.
3. Joey's Gloss
Joey's lipgloss has a brown nude and pink tone. It doesn't have a shimmer which makes it more wearable. I bought this one after I saw a review on Youtube. And is now one of my favourite lip products. If we didn't have to wear facemaks, I would use this lipgloss every day… I love it so much! The colour is unique, the lipgloss doesn't feel sticky and it gives your lips an extra shiny touch.
Comment your favourite Friends' character below and let me know your thoughts on the Revolution x Friends collection. I absolutely love the idea behind it, the references they make and the fact that it's not all too seriously. Friends is possibly the most popular 90s TV show in existence, practically everyone knows about it. Thanks to the collection, we can all become a little bit like Rachel, Monica or Phoebe.
Lots of love,
Sofie ♡