Hello, September! Isn't it crazy how fast 2020 is going? Although we're experiencing a global pandemic, I've the feeling this year is flying by way quicker than usual… Summer is almost over, autumn is coming and a new month will bring us new challenges, memories and lessons.
I know it's been a while since I've uploaded a blog post, but I took a little break because I had a busy summer and wanted to focus on my final work and job hunt.
In this blog post I'll tell you more about the things you need to do to keep your focus and goal during this brand new month. Why? Because habits are keys to living a good and fulfilled life and a little bit of self development is always a good idea!
I've made a list of 5 to do's who have helped me through the start of a new month. Tips and tricks to organise yourself, your behaviour but also your busy daily life. Enjoy reading!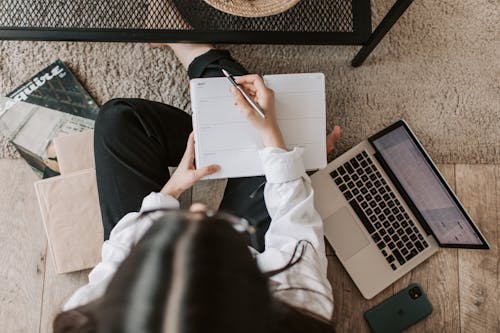 1. Reflect on the previous month
The past is gone, but we can't ignore its relevance. At the beginning of every month, it is essential to look back and have a reflective thinking on what the past month was like. Outline your mistakes, the things you regret and try to find a good balance between what you expect of this new month and what others expect from you.
2. Set a goal for this month
It is good to be ambitious and to want to achieve a whole lot within a month but remind yourself that what you want, needs to be achievable. Even one small step forward, means you're getting there. For a more effective way, you should pick one specific plan and try to persue it as hard as possible. Select meaningful goals.
For example, if you are able to achieve one goal each month, you'll have achieved twelve goals by the end of a year. Which might sound crazy but with the right organisation and mindset it is possible. Am I saying you should have 12 goals in a year? Nope. Just do what you think is right for you and adjust where necessary.
3. Declutter
With the start of a new month, deep cleaning and decluttering should be something you start with. Clean your room, organise your journal/diary, throw away what you don't need anymore and don't forget to deep clean your workplace or desk. I became aware of the fact that these excercises prepared me mentally and psychologically for a new month and fresh start.
4. Plan a budget
A budget is your financial map. It tells you what to spend your money on and what not to spend your money on. Planning a budget is essential for success in life. Before I determined my budget, I spent way too much money and didn't think clearly about my needs. Now I can only focus on my pre-planned expenses. A budget is simply telling your money where to go. It's seriously that simple.
There are many ways to budget your income and you could choose the one that's most suitable for you. However, the 50/30/20 formula is a great tool. The rule states that 50% of your income should go to important things (rent, transportation, groceries, insurance,…). For the 30%, you're to include all you want but could certainly live without. The 20% is for the future. You could save it, or invest with it. That's up to you.
5. Schedule appointments and plan your meetings
As the month journeys by, you are definitely going to meet with a lot of people and plan activities or meetings ahead. You can settle these appointments at the beginning of the month or schedule them thoughout the month. It depends on what you prefer and what you're availability is.
It is normal to have times when you get too busy to even pay attention to the friends and loved ones around you. To avoid that, you can start scheduling meetings and hangouts with your friends and family. If you have that at the back of your mind from the very beginning of the month you will be able to go through the month with peace.
So, there you have it! Amazing things you could do at the beginning of each month to help you grow and improve. Is there anything you do at the beginning of a month that you can't find on this list? Feel free to leave a comment and let me know your thoughts.
"Trust the magic of new beginnings."
Lots of love,
Sofie ♡